B2B online commerce is evolving at a very fast pace… If we count in the number of transactions, it is less important than in B2C however, the value will far exceed that of B2C transactions with sales estimated at more than six trillion dollars.
So, if you're in a B2B business and you haven't considered the E-commerce component yet, it's time to move on this, quickly…
More business equals more people, more people equals more transactions and more transactions equals more competition which ultimately leads to a customer experience that will become a B2B differentiator.
Selling and customer experience
Keep in mind the customer experience, online of course but also offline, because many companies still operate with a lot of representatives.
A 2017 study by Merkle found that 65% of B2B buyers complain that representatives are much more interested in selling rather than understanding their needs.
Therefore, it becomes imperative to help sellers offer a better experience to people and especially to potential customers they meet.
In addition to the sales "skills" they need to learn, there is a lot of technology that can be available on their cell phones to help them answer questions quickly about personalizing your products and services.
The role of your representatives is to adapt your offer of products and services to the particularities of your "prospects". It is therefore very important to provide them with the opportunity to do so.
If we transport ourselves online…
According to Google, almost 50% of searches are done on mobile devices, so you have to think in terms of "Desktop" and "Mobile" from the moment you decide to start e-commerce.
And you don't have to look very far to find examples.
For example, this graph appeared in Marketing Charts where 300 B2B companies that do E-commerce were surveyed.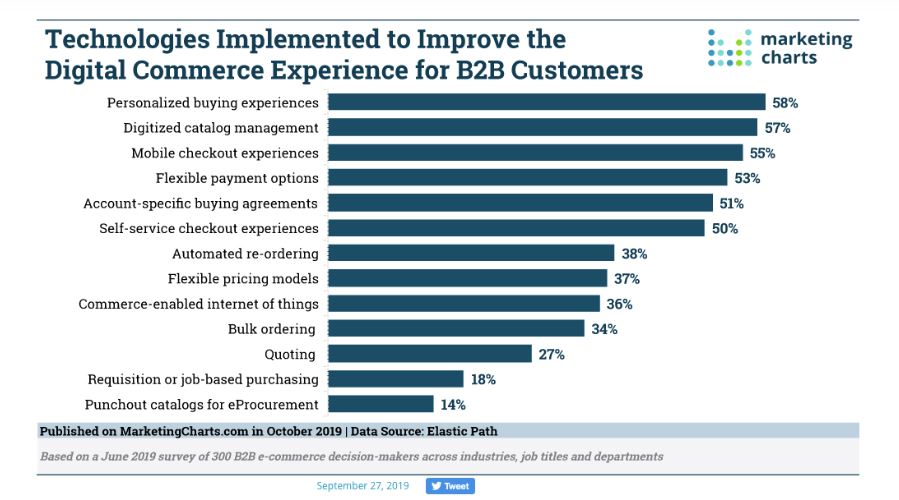 More than 50% of these companies use:
• personalized customer experiences;
• the management of digital catalogs;
• offer mobile payments;
• offer different payment methods;
• prices are adjusted according to the accounts;
• purchases are self-service.
It's becoming urgent: move on!
In B2B e-commerce here are five main steps you need to consider:
1. The first thing is to think about what products or services you could offer in E-commerce. It's not necessary to showcase everything in the beginning, to put your products and services online in one single mega-window.
2. Be strategic in your choices. What would be the easiest while being the most profitable?
3. Make your customers autonomous in the way of shopping: that's what they want to do!
4. Once they have shopped, equip your sales team to customize their response to customers who have already done part of the work.
5. Finally, vary your access options to place an order and pay …
So before launching your B2B e-commerce strategy, prepare your representatives to meet the needs of your future customers and more importantly, if you want more information, call on our experts.
As a member of NextBlue Alliance, a group of companies offering IBM Watson Artificial Intelligence-based solutions, ExoB2B is well positioned to help your business in your digital shift. Contact us!