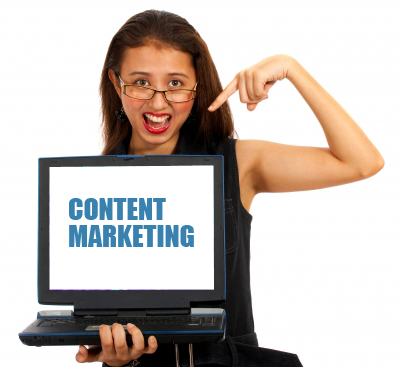 When I found this slideshare that does a rundown of the main trends in B2B content marketing, I figured this would be a great starting point for an Exo novice like myself. Here's what caught my attention.
The top 5 content marketing trends:
1.       Content marketing greatly increases when it comes to content strategy, form and volume
Here, we can see that:
84% of participating marketers agree that the amount of content increases.
More than half of participants use at least 10 different content marketing techniques.
Those used the most are case studies (62%), white papers/electronic books (61%), press releases (58%), newsletters (55%) and blogs (50%).
2.       If we consider the three main objectives of B2B marketing experts; or in order of importance: lead generation, market education and brand awareness; we see that they all have one thing in common: content.
Lead generation: 68% of participants (compared to 62% last year)
This large proportion is not surprising as B2B content marketing was created for inbound lead generation (as opposed to the less efficient outbound marketing, mentioned in the article "Inbound marketing, a Weapon for Your B2B Arsenal").
Market education: 50% of participants (compared to 37% the previous year)
Content marketing is used to influence buying behavior in favor of companies.
Brand awareness: 39% of participants (versus 34% in 2011)
Last year, the 3rd most important objective was lead nurturing.
3.       Infographics as a form of content is used 1.5 times as much as in the past, which makes it the one with the highest growth.
Since last year, its efficiency rate, according to interviewees, went from 28% to 43%.
4.       Time and bandwidth are the biggest challenges for marketing experts when it comes to content creation.
Marketing experts develop almost all (94%) content from scratch (longer creation time!).
5.       Most B2B marketing experts try to measure the influence of their content.
The most popular control measures are traffic, the number of pages viewed and downloads, as well as the number and quality of generated leads.
According to the survey, B2B companies are most likely to outsource the development of:
Videos (33%)
White papers /electronic books (32%)
Case studies (26%)
Blogging, on the other hand, is outsourced by approximately 16% of participants. However, only 6% of participants externalize the management of their community. And these are two areas of expertise here at Exo!
Lastly, the most important elements for developing efficient content, according to the participants, are the following:
An interesting and convincing writing style (81%)
Originality (52%)
Original content (50%)
A professional writing style (39%)
The methodology:
To read the full survey: https://www.slideshare.net/hschulze/b2b-content-marketing-trends-2012